Ribera del Duero

For wine lovers, Ribera del Duero is not to be missed. Endowed with an extremely favorable combination of terroir, microclimate and native grape, Ribera del Duero is an exciting wine region and a new international star that currently rivals Rioja as the leading producer of red wines in Spain. Spread across the wide valley of the river Duero and situated on the northern part of Spain's great meseta, Ribera del Duero is easily accessible and only a two-hour drive from Madrid
Vine Cultivation and Wine Making
In 1972, outside the tiny village of Baños de Valdearados, grape harvesters discovered several amazingly well-preserved Roman mosaics ... one depicting the Triumph of Bacchus. This discovery evidenced what the locals had always known, that wine making and wine appreciation in Ribera del Duero have been part of the culture and tradition for centuries.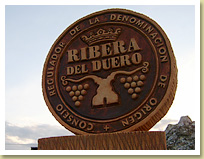 Modern wine making history witnessed the creation of world-renowned wines from the mythical Vega Sicilia estate. These legendary wines are some of the rarest and most expensive in the world, and were the only well-known wines from the region until Alejandro Fernandez founded his winery in the early seventies and later won international acclaim with his Tinto Pesquera.
In the last few decades, wine making in Ribera del Duero has experienced a stunning revolution and seen extensive investment in vineyards and winemaking facilities. In 1982, when the DO originated, there were only nine registered wineries - now there are over 200. This transformation has given rise to a heady number of prestigious wineries such as Arzuaga Navarro, Emilio Moro, Dominio de Pingus, Matarromera, Abadia Retuerta, Hermanos Perez Pascuas and Aalto, just to name a few.
In fact, there are so many interesting wineries producing excellent wines that it is difficult to choose only a few to visit. In Ribera del Duero, Bacchus has triumphed again.
Ribera del Duero's star grape, Tinta del Pais or Tinto Fino, is a local variant of the Rioja's Tempranillo and is thought to have adapted to the region's climatic extremes. It produces deep-colored, full-bodied red wines noted for great structure and longevity.
Natural Beauty and Cultural History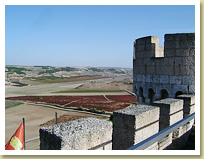 It is easy to be swept away in Ribera del Duero. Here the Duero river valley and the surrounding uplands are a rugged and romantic landscape dominated by vineyards. Quiet country roads weave between rustic farms and stone villages. Each encounter is a step further back in time.
Scattered among the modern wineries are the testaments to Ribera del Duero's noble past. Of the many churches and monasteries dotting the countryside, Santa Maria de Valbuena stands out. Situated near the bank of the Duero in the sleepy village of San Bernardo, this lovely monastery is one of the finest examples of Spanish Cistercian architecture.
The mighty Peñafiel castle, in the town of Peñafiel, rises above the valley like an immense stone ship anchored on top of a hill. This 15th century castle affords breathtaking views of the valley and also houses a wine museum.
Facts for the Oenophile
Ribera del Duero is located in south-eastern Castilla y Leon and straddles the provinces of Burgos, Valladolid, Segovia and Soria.The land included within the DO designation lies on both sides of the Duero river and measures 115km/71 miles long by 35km/22 miles wide. The terrain varies considerably.
Vineyard area: 20,000 hectares / 49,420 acres
Authorized yield: 49 hl/ha
Principal vine variety: Tinta del Pais or Tinto Fino (a variant of Tempranillo) (85%)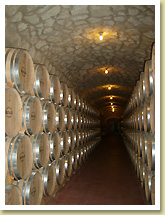 Other varieties: Cabernet Sauvignon, Merlot, Malbec, Garnacha and Albillo
Wines produced within the DO: predominantly reds which must be made with at least 75% Tinta del Pais. Joven (young), Crianza, Reserva and Gran Reserva. Small quantities of Rosé.
Wine alcohol content: red: min. 11.5% abv
Rosé: min. 11% abv
Annual production: 44,662,613 litres (2005)
Altitude: vineyards located between 700-1.000 m / 2,296-3,280 ft
Soil: mixed and varied depending on altitude and location
in the hilly areas - clay, marl and limestone to the east of Roa de Duero; clay, marl and gypsum to the west of Roa de Duero
closer to the river - alluvial with sand and clay
limestone is a key factor
Climate: mixture of continental and mediterranean
annual hours of sunshine: 2,400
moderate to low annual rainfall: 400 mm / 15.7 in
warm, dry summers: high of 40°C / 104°F
long, harsh winters with frequent frosts: low of -18°C / -4°F