Rueda

Rueda is known for wonderfully fresh and fruity white wines and has achieved great success in both domestic and international wine markets. One of five DOs found in Castilla y León, Rueda lies south of Toro and southwest of Ribera del Duero and is easily combined with a visit to either of these two regions. It is also an enjoyable day trip from Madrid.
Vine Cultivation and Wine Making
Rueda is yet another Spanish wine region with a long tradition of wine making. In the 11th century, King Alfonso VI offered freehold land ownership to anyone prepared to resettle the area after the Reconquest; in came the monasteries, and wine production took off. Vineyards flourished during the Middle Ages, and Rueda's wines were greatly favored among the royal courts.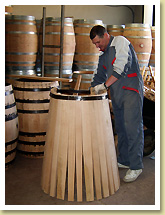 In contemporary history, it was the eminent Riojan winery, Bodegas Marqués de Riscal, who recognized Rueda's potential for dry white wines and led the way to the region's revitalization. Riscal founded its winery here in 1971, and also introduced Sauvignon Blanc.
Rueda was awarded DO status in 1980, and like other regions in Spain has seen significant investment and redevelopment. Today there are over 40 wineries in Rueda producing top quality wines. Just a few are: Ángel Rodríguez Vidal, Antaño, Bodegas Aura (part of the Domecq group), Bodegas de Crianza de Castilla La Vieja, Bodegas Hijos de Alberto Gutiérrez, Javier Sanz Viticultor, Bodegas y Viñas Dos Victorias, and Grupo Yllera.
Grown exclusively in Rueda, the indigenous Verdejo grape is the jewel of the region. It is thought to have been brought from North Africa and dates back to the 11th century. This remarkable grape is responsible for the unique character and enormous flavor of Rueda wines. Viura and Sauvignon Blanc, also grown in the region, are often blended with Verdejo. Grapes are harvested at night, chilled to below fermentation temperature, and then remain gas-blanketed throughout cold fermentation.
Sherry style wines —such as oxidised rancios and generosos— have been made in Rueda for centuries, and although generally out of fashion, some wineries continue to produce them. These wines are oak-aged under a thin layer of natural yeast (flor) and are made from Palomino grapes.
Sparkling wines are made in Rueda using the same method as Cava, but with Verdejo rather than Viura. Reds and rosés are also produced here, but are classified as Vino de la Tierra.
Natural Beauty and Cultural History
Rueda is surrounded by many lovely towns and cities that all played an important role in various periods of Spanish history. The village of Rueda, the heart of the wine making region, is just a few minutes drive from Tordesillas. This quaint town, with it's charming square and remarkable Mudejar-style convent, the Real Convento de Santa Clara, witnessed the signing of the Treaty of Tordesillas which divided the New World between the Catholic Kings of Spain and Juan II of Portugal.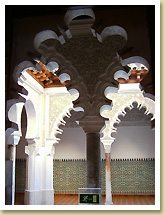 Also nearby is the medieval town of Toro, known for its lovely Colegiata (collegiate church) and its old quarter which contains vestiges of the town's 10th-century walls.
The wonderful cities of Valladolid, Salamanca, Segovia and Ávila are all within striking distance of the Rueda wine region, and are filled with cultural and historical monuments. Other attractions in the area are the La Mota Castle, just outside of Medina del Campo, and the wonderful Castle Coca. Built in the Mudejar style in the second-half of the 15th century, it is one of the most spectacular castles in all of Spain.
Facts for the Oenophile
Rueda is located on a relatively flat but high area of Spain´s central plateau in Castilla y Leon. The Duero river runs through the northern section of the region, and the vineyards are divided between the provinces of Valladolid, Segovia and Ávila, although most are concentrated around the villages of La Seca, Rueda and Serrada. It is well-known for white wines.
Vineyard area:7,750 hectares/19,150 acres
Authorized yield:white varieties:
Verdejo and Sauvignon Blanc en vaso (gobelet): 8,000 kg/ha
en espaldera (VSP): 10,000 kg/ha
Viura and Palomino Fino: 10,000 kg/ha
red varieties: 7,000 kg/ha
Principal vine variety: Verdejo (59%)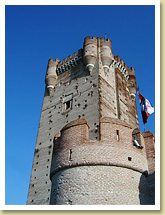 Other varieties:Whites - Viura, Sauvignon Blanc and Palomino Fino
Reds - Tempranillo, Cabernet Sauvignon, Merlot and Garnacha
Wines produced within the DO:White - Rueda (must contain 50% Verdejo) , Rueda Verdejo (must contain 85% Verdejo), Rueda Sauvignon Blanc (100% Sauvignon Blanc) , Rueda Espumoso (Seco and Semiseco 50% Verdejo / Brut and Brut Nature 85% Verdejo), Rueda Dorado (a dry fortified wine much like Sherry).
Wine alcohol content:White – min 11% - max 14% abv


Annual production:27,150,000 liters (2005)
Altitude:600~780 meters/1,969~2,559 ft
Soil:poor in organic materials, good ventilation and drainage
concentration of small, rounded stones on the surface
Climate:continental
annual hours of sunshine – 2,700
low annual rainfall – 400 mm/15.7 in
dry, hot summers – average high 29.8°C / 85.6°F
long, cold winters – average low -4°C / 24.8°F
short springs with late frosts