Toro

Toro is one of five DOs found in Castilla y Leon and lies west of Ribera del Duero and northwest of Rueda. Wine making in Toro has enjoyed a long and colorful history, and the region is now a new force in modern Spanish wine making.
Vine Cultivation and Wine Making
Wine making in Toro dates back to before the arrival of the Romans. During the Middle Ages, Toro was a powerful wine region producing famous wines so revered that they were exempted from protectionist laws in other regions of medieval Spain. It is also said that the wine Christopher Columbus took on his journey to discover America was from Toro.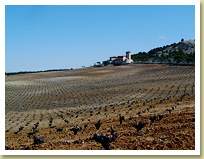 When phylloxera ravaged France's vineyards in the 19th century, the vineyards in Toro escaped devastation thanks to the region's dry, sandy soils. Large quantities of wine from Toro were exported to France, and vines from Toro were used to replant vineyards in other regions in Spain. Today many vineyards in Toro can still boast pre-phylloxera vines.
Wine making in Toro has experienced a complete revitalization in the last twenty years as wineries have rebuilt themselves and upgraded equipment. Having recognized the potential of the region, some of the great names from Rioja, Ribera del Duero and Bordeaux have come to Toro and launched their own estates. The DO was established in 1987 and there are now over 40 wineries. Some of the most well-known are: Bodegas y Vinas Dos Victorias, Bodega Numanthia Thermes, Bodega Estancia Piedra, Compania de Vinos Telmo Rodriguez, Bodegas y Vinedos Pintia and J&F Lurton.
Toro is famous for it's big red wines. As the name suggests, the native Tinta de Toro grape bears robust, full-bodied wines of top range strength.
Natural Beauty and Cultural History
The Toro wine region presents a timeless, rural landscape and spectacular views of the Duero river as it winds its way toward Portugal. It is bounded by several lovely towns, replete with artistic and architectural treasures, that all played an important role in various periods of Spanish history.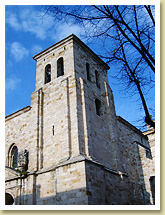 The genteel town of Zamora lies northwest of the vineyards and is situated on the northern banks of the Duero. It was an important city in the Middle Ages, as evidenced by its fine cathedral and impressive cluster of Romanesque churches.
The Toro wine region derives its name from the medieval town of Toro. It is known for its wonderful Colegiata - the collegiate church of Santa Maria la Mayor, and its old quarter which contains vestiges of the city's 10th-centuray walls.
Just a short drive east of Toro is Tordesillas. This quaint town, with it's charming square and remarkable Mudejar-style convent, the Real Convento de Santa Clara, witnessed the signing of the Treaty of Tordesillas which in 1494 divided the New World between the Catholic Kings of Spain and Juan II of Portugal.
Facts for the Oenophile
Toro is located on Spain's central plateau in the western part of Castilla y Leon. Most of the vineyards lie in the southeast section of Zamora province with a small portion extending into the province of Valladolid.
Vineyard area: 5,500 hectares / 13,585 acres
Authorized yield: 42-63 hl/ha
Principal vine variety: Tinta de Toro (local variant of Tempranillo) (78%)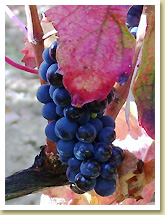 Other varieties: red - Garnacha (known locally as Tinto Aragones) white - Malvasia, Verdejo
Wines produced within the DO: Reds made with 100% Tinta de Toro. Joven (young), Crianza, Reserva, Gran Reserva, Tinto Roble (90% Tinta de Toro, 10% Garnacha). Young Rosés made with 50% Tinta de Toro. Young Whites made with 100% Malvasia or 100% Verdejo.
Wine alcohol content: red: min. 12.5% - max. 15% abv
rosé: min. 11% - max. 14% abv
white: min. 11% - max. 13.5% abv
Annual production: 6,000,000 litres (2005)
Altitude: 620-750 m / 2,034-2,450 feet
Soil: sandy over alluvial clay in the south
some limestone in the northeast
Climate: continental
annual hours of sunshine: 2,600-3,000
low annual rainfall: 350-400 mm/ 14-16 in
great temperature variations
long, hot summers: high of 37°C / 98.6°F
cold winters: low of -11°C / 12.2°F